S1E10 - Observations A
1 year ago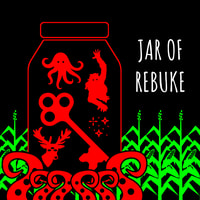 After they receive a voicemail from Darius, Jared begins to confront feelings and concerns regarding those within their life... but, there's realizations outside of personal feelings that are made. He isn't alone.
Written and produced by Casper Oliver (they/them) who also voices Dr. Jared Hel Darius Chapman is voiced by VynVox (he/they) Intro read by Vanessa Rosengrant (she/her) Credits read by Ashlee Craft (they/them), who also makes the podcast graphics Episode edited by Chelsea Finley (she/her) Assistant writer for this episode was Jenny O'Sullivan (she/her) Music by TheMenniss (they/them) https://themenniss.bandcamp.com/
Support this podcast, and other queer-lead projects by Casper Oliver, on Patreon for monthly perks and behind-the-scenes content https://www.patreon.com/casperoliver
Trailer at the end of the episode is from our friends at "Dos: After You"
Find out more at https://jar-of-rebuke.pinecast.co