S1E4 - Green Claw
6 months ago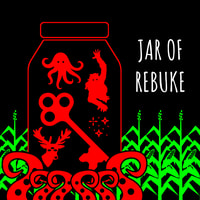 After a lovely fall afternoon by the river with Darius, a sudden turn of events leads to Jared being neck-deep in trouble and even deeper within the frigid waters, face-to-face with the monster rumored to lurk in the depths.
Jared is voiced by Casper Oliver (they/he), guest voice is provided by Jason Larock (he/him). Intro read by Vanessa Rosengrant (she/her), credits read by Ashlee Craft (they/them), & music by Luke Menniss (he/him).
Ad at the end of our episode was provided by fellow queer horror podcasters "The Great American Scream"!
Support us on Patreon https://www.patreon.com/jarofrebuke/ or on PodHero https://podhero.com/531017-6kv