#4 – Green Claw
3 years ago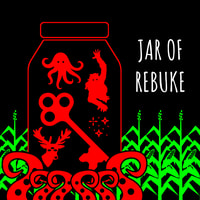 After a lovely fall afternoon by the river with Darius, a sudden turn of events leads to Jared being neck-deep in trouble and even deeper within the frigid waters, face-to-face with the monster rumored to lurk in the depths.
CW: this episode contains themes of drowning, freezing, fantasy violence, death, audio distortion
Official Transcript is available here!
Written and produced by Casper Oliver (he/fae/they) who also voices Dr. Jared Hel The River Monster is voiced by Jason Larock (he/him) Intro read by Nessa R (she/her) Credits read by Ashlee Craft (he/they), who also creates the podcast's official graphics Music by TheMenniss (she/they) https://themenniss.bandcamp.com/
Ad at the end of our episode was provided by fellow queer horror podcasters "The Great American Scream"!
Support this and our other projects on our official Patreon: https://patreon.com/thesperience.
Check out the Thesperience site to see our other queer-made projects and to find our public resources.
Find all of our cast & crew links: https://jarofrebuke.carrd.co/.
Find out more at https://jar-of-rebuke.pinecast.co