Official Bloopers - 1 (EXPLICIT)
2 years ago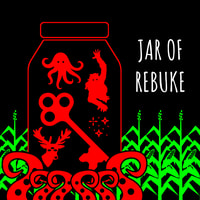 WARNING: contains graphic adult humor and swearing.
Official bloopers from recording sessions of 'Jar of Rebuke'! We will be releasing additional bloopers onto Patreon here soon, so supporters will be getting even more of these goofs!
We will be back on August 21st with full episodes, thank you to everyone for your patience as many of the cast & crew members go through some major life changes. Can't wait to continue telling Jared's story!
Audio edited by Chelsea Finley (they/them) Podcast official graphic by Ashlee Craft (they/xe) Music by TheMenniss (they/them)
Support this and our other projects on our official Patreon: https://patreon.com/thesperience
Find all of our cast & crew links: https://jarofrebuke.carrd.co/
Find out more at https://jar-of-rebuke.pinecast.co