#7 – Shifts
2 years ago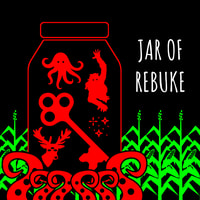 Another day at The Enclosure, another journal entry. This one takes a peak into a shift, a recording on-the-clock. This one also shows shifts in tides, and how things are changing.
CW: this episode contains themes of death, supernatural violence, psychiatric malpractice, ableism, and bodily pain (Fibromialgia & migraines)
Official English transcript here!
Written and produced by Casper Oliver (he/fae/they) who also voices Dr. Jared Hel Guest voice by Jenny O'Sullivan (she/they), who also assisted in writing Intro read by Nessa R (she/her) Credits read by Ashlee Craft (he/they), who also makes the podcast graphics Music by TheMenniss (they/them) https://themenniss.bandcamp.com/
Support this and our other projects on our official Patreon: https://patreon.com/thesperience
Thesperience Productions website.
Find out more at https://jar-of-rebuke.pinecast.co