#2 – Snipe Hunt
3 years ago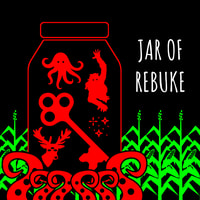 The yearly snipe hunt charity tournament to support the local school has come around and this year, Jared takes part. But, Jared runs into more than he bargained for while on the hunt.
CW: this episode contains themes of fantasy violence, death, audio distortion
Official Transcript available here!
Written and produced by Casper Oliver (he/fae/they), who also voices Dr. Jared Hel Guest voice by Cecil Fox (they/them) Intro read by Nessa R (she/her) Credits read by Ashlee Craft (he/they), who also created the podcast logo Music by TheMenniss (they/them) https://themenniss.bandcamp.com/
Support this and our other projects on our official Patreon: https://patreon.com/thesperience
Thesperience Productions website.
Find out more at https://jar-of-rebuke.pinecast.co